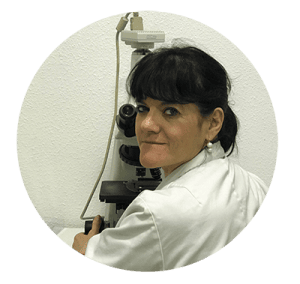 Dr CARMEN LORENTE MÉNDEZ,
DVM, PHD, DIPECVD
EBVS® European Specialist in
Veterinary Dermatology–
Dermatology Consultant in Laboklin
Carmen graduated and obtained her PhD in Veterinary Medicine from the Complutense University of Madrid (1988, 2005).
Being a Diplomate of the European College of Veterinary Dermatology and European Specialist in Veterinary Dermatology Carmen offers a wealth of experience to the BattLab team on complex cases.
She establishes her own small animal practice in 1989 where she worked for a further eleven years. Joining, in 2000, the University CEU Cardenal Herrera, Valencia, Spain as Professor and Head of the Dermatology Service until 2007, at which time she also established a dedicated dermatology clinic and moved to the Veterinary Teaching Hospital at the Alfonso X the Wise University as Head of Internal Medicine and Dermatology Services. Carmen continues her work in her first opinion clinic as well as Consultant in dermatology at LABOKLIN since 2018.
Speaker at many congresses, courses, conferences, seminars, practical workshops. Author of numerous national and international publications and four books on veterinary dermatology.
Publications:
"Buscando el Éxito en la Consulta de Dermatología: Manual práctico de Pruebas Diagnósticas" Editorial Servet. 2020.
"Buscando el Éxito en la Consulta de Dermatología: Protocolo de diagnóstico del paciente dermatológico" Editorial Servet. 2019. ISBN: 978-84-17640-44-6 e-book: 978-84-17640-51-4
Diagnosis in dermatology. Pet owner educational atlas. 2015. Ed Servet. ISBN: 978-84-16315-48-2; e-book: 978-84-16315-66-6
Pet owner educational Atlas. Dermatology. 2013. Ed Servet. ISBN: 978-84-941014-7-2