MEMORIES FROM THE LAST SEMINAR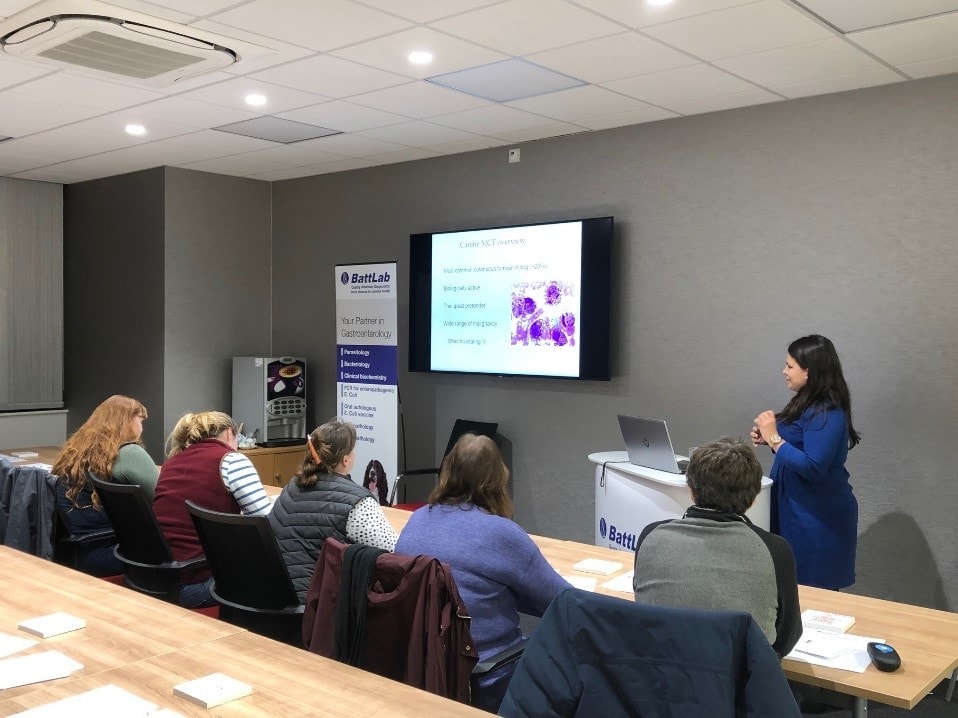 Thanks to all the vets who joined us last month for the fourth (and last for 2020) of our free Battlab evening seminars focused on canine mast cell tumours and brilliantly presented by Dr Katarzyna Purzycka, oncologist from the Royal Veterinary College (RVC).
For all those who could not participate, there's a summary of the key points below:
Mast cell tumour (MCT) is the most common neoplasm in the dog, accounting for approximately 20% of all cutaneous tumours.
High risk factors for canine MCTs include:
Anatomic location (including mucocutaneous junctions, perineum, scrotum/preputial area, internal organs)
Tumour size (large tumours may be associated with a worse prognosis after treatment)
Clinical stage (lesions confined to the skin have better prognosis than higher stage disease)
Histologic grade (strongly predictive of outcome, see below for details)
Most important paraneoplastic signs associated with MCT include à release of histamine: local effects vs increased gastric secretion, (vomiting, hematemesis, melena), anaphylactoid reactions.
Clinical staging: when and how?
In the absence of local lymph node metastases, the utility of further staging is low.
FNA of the loco-regional lymph nodes is always important, even when these are normal in size!
Thoracic radiographs are not particularly useful in the staging process of canine MCTs.
Histological grade is the most important prognostic factor. According to the Patnaik grading system, the majority of canine MCTs (60-81%) are of low or intermediate grade. They are associated with a low risk of metastases and local treatment (surgery) is often curative. High grade MCTs have a more aggressive behavior, shorter survival and are associated with a higher risk of metastasis. Local therapy is often not sufficient.
Intermediate grade: can do either and behave as low grade or high grade MCTs.
A 2-tier histologic grading system was recently proposed by Kiupel et al to reduce interobserver variation and eliminate prognostic uncertainty of the Patnaik system. This system has shown to have an important prognostic value as indicated below.
High-grade MCT: MST <4 months
Low grade MCT: MST >2 years
Mitotic index (MI) which is the number of mitoses/10 HPF is also predictive of overall survival for dogs with mast cell tumours (MCTs) independent of tumour grade.
Dogs with MCTs with MI of 0–5:  MST 70 months
Dogs with an MI >5 MST:  2 months
Treatment options:
Surgical excision
Radiation therapy
Chemotherapy
Combination of any above
Local vs systemic Tx
| | | |
| --- | --- | --- |
| Grade | Margins | Additional Treatment |
| I-II | clean | None |
| I-II | dirty | Sx/RT/active monitoring |
| *II/III | clean | chemo |
| *II/III | dirty | Sx/RT + chemo |
*II are grade II MCTs:
High risk
Metastatic to LN
MI>5/10HPF
Our laboratory offers a comprehensive service of cytopathology and histopathology in all domestic species. For more information visit our website or contact us by phone or
email