EXCESS BAGGAGE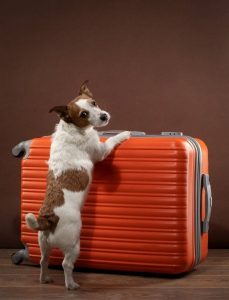 Diagnosis of Leishmaniosis: an overview
This month we are discussing Leishmaniosis, another infectious disease very common in the Mediterranean area that might accidentally be caught by our pets dogs while on holiday or if imported from these countries.
Leishmania infantum is an intracellular protozoa transmitted by a vector (sand fly) that can infect dogs, humans and, in endemic areas, also other species. Despite the absence of sand flies in this country, this infection seems to be increasing in the UK.
WHAT LABORATORY CHANGES ARE COMPATIBLE WITH LEISHMANIOSIS?
Typical clinicopathological abnormalities include normocytic normochromic nonregenerative anaemia, renal azotaemia, hyperproteinaemia with hypoalbuminemia, gammopathy (polyclonal, oligoclonal, occasionally monoclonal), proteinuria, decreased urine specific gravity, raised acute phase proteins. Neutrophilia is frequently noted and occasionally prolonged Pt and aPTT and thrombocytopenia can be also present.
HOW TO DIAGNOSE LEISHMANIOSIS?
The diagnosis is based on a combination of clinical signs and/or clinicopathological abnormalities compatible with the disease and by confirmation of Leishmania infantum infection, performed with serological, cytological/histological or molecular techniques.
Patients with clinical presentation and/or clinicopathological changes consistent with canine Leishmaniosis and high antibody titres have a confirmed diagnosis and it is advised to perform accurate clinical staging, as this affects the therapeutic plan, the necessary follow up steps and the prognosis. For further details, see www.leishvet.org. At Battlab we offer cytology, serology and PCR service and can assist you in the diagnostic process of suspicious Leishmania sp. cases.
WHAT SEROLOGY TESTS ARE USED TO MEASURE LEISHMANIA ANTIBODY TITRES?
Quantitative serology is the most common technique used for diagnostic and monitoring purposes. It can be carried out by immunofluorescent antibody test (IFAT), which is still the recommended test by the World Organization for Animal Health (OIE). However, enzyme-linked immunosorbent assays (ELISA) are being increasingly employed as they are less dependent on operator-related variables and not prone to subjective interpretation. Furthermore, ELISA results are more reproducible. Both tests have reported high sensitivity and specificity (>95%).
WHEN IS IT RECOMMENDED TO PERFORM CYTOLOGY/HISTOPATHOLOGY?
If the dog presents clinical or laboratory changes suspicious for Leishmaniosis, but quantitative serology is either negative or low, it is recommended to verify the clinical suspicion with cytological/histological evaluation of lymph nodes, bone marrow, spleen, and/or cutaneous lesions. Identification of Leishmania amastigotes confirms the diagnosis of Leishmaniosis (see picture below).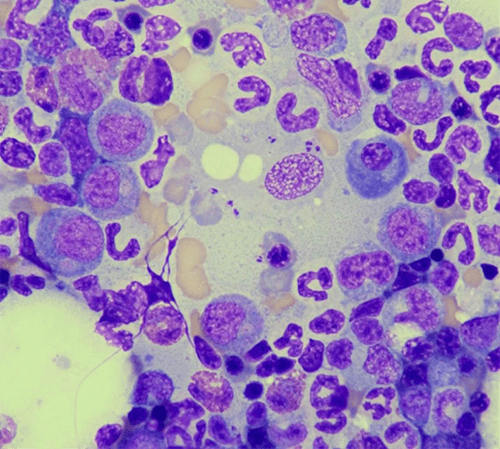 Bone marrow aspirate from a dog, Wright-Giemsa 50x field. Note the amastigotes within the macrophages and the presence of some mature plasma cells.
WHEN IS MOLECULAR TESTING RECOMMENDED?
If there is strong clinical suspicion of infection, serology results are either negative or low, but the parasite has not been visualised, molecular testing (PCR) is required for confirmation. Ideal samples include bone marrow, lymph node, spleen, skin, and/or conjunctival swabs. It is not advised to perform PCR on blood, buffy coat, or urine, as these substrates markedly decreased test sensitivity.
WHAT TO DO WITH A CLINICALLY HEALTHY DOG WITH LOW ANTIBODY TITRES?
Low antibody titres and no clinical signs can indicate subclinical infection, or exposure to the parasite without infection, the latter is common in endemic areas. In these cases, the Guidelines for Canine and Feline Leishmaniosis (published by www.leishvet.org) recommend monitoring the patient with physical examination, routine laboratory tests and serological tests every 3 – 6 months. No treatment is required in those cases.
WHY DOGS COMING FROM THE MEDITERRANEAN AREA OFTEN HAVE LOW ANTIBODY TITRES BUT ARE NOT ILL?
Dogs originating from endemic areas are often clinically healthy and have low antibody titres, as they can be exposed to sand fly bites from early April to November, but they are not necessarily going to develop the disease. A recent study (Cavalera et al. 2021) demonstrated that in dogs from an endemic area for Leishmaniosis, there is variation in antibody titres characterized by vector seasonality. More specifically, the reduction in antibody titres during the non-transmission season was up to 3-fold lower than the previous antibody titre. Therefore, asymptomatic dogs that are seropositive during sand fly season should be reassessed during the non-transmission season to confirm infection status.
WHAT TO SUGGEST TO THOSE OWNERS PLANNING TO TAKE THEIR DOGS TO ENDEMIC AREAS?
The use of permethrin repellents is recommended to reduce the risk of infection before travelling to risky areas. Topical insecticides are available as spot-on formulations, that should be applied at least 2 days before departure and protect against sand-fly bites for 3-4 weeks, or collars, that should be applied 1-2 weeks before travelling and protect for 5-8 months depending on the product.